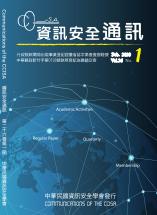 Print ISSN:1729-6056
Online ISSN:2664-4207
Communications of the CCISA (CCCISA for short) was published by Chinese Cryptology and Information Security Association (
CCISA
) from 1994. The original journal title is Information Security Newsletter (1994-2001). CCISA is the largest and well-established academic association devoted to cryptology and information security in Taiwan. The mission of CCISA is to promote educational training, research and development of information security, assisting the government to establish information security standards, and participate in national and international information security academic activities. CCCISA is a peer-reviewed open access journal with no article processing charges. CCCISA is a quarterly publication that highlights the newest researches and the latest news from CCISA. CCCISA covers the sciences, technologies, and applications relating to information security.

Topics of interest to CCCISA include but not limited to:
Cryptography
Confidentiality, Integrity, Authenticity
Security and privacy foundations
Secure computing and systems
Trustworthy computing
Network and communication security
Information security policies and laws
Information security management aspects
Cryptocurrency and blockchain
FinTech Security
Healthcare Security
Physical Layer Security
Quantum cryptography
Quantum Key Distribution
Quantum Secure Direct Communication
Post-quantum Cryptography
Other emerging topics
The readers can also find the previous articles from
airiti Library
(subscription required).
Announcements
Message: New Website System

CCCISA has announced the new website system from January 15, 2019. This change is to improve our quality and efficiency of service. The new manuscript submission system will also be available soon.
Posted: 2019-01-16
More...
Vol 29, No 3 (2023)

Open Access

Subscription Access
Table of Contents
Editorials
Articles
| | | |
| --- | --- | --- |
| | Rai Manu, Chit-Jie Chew, Ying-Chin Chen, Yun-Yi Fan, Jung-San Lee | 1-17 |
| | | |
| --- | --- | --- |
| | Cheng-Ta Huang, Chia-Hsuan Lee, Hao-Yu Wang, Wei-Jen Wang | 18-32 |
Quarterly
Academic Activities
Membership